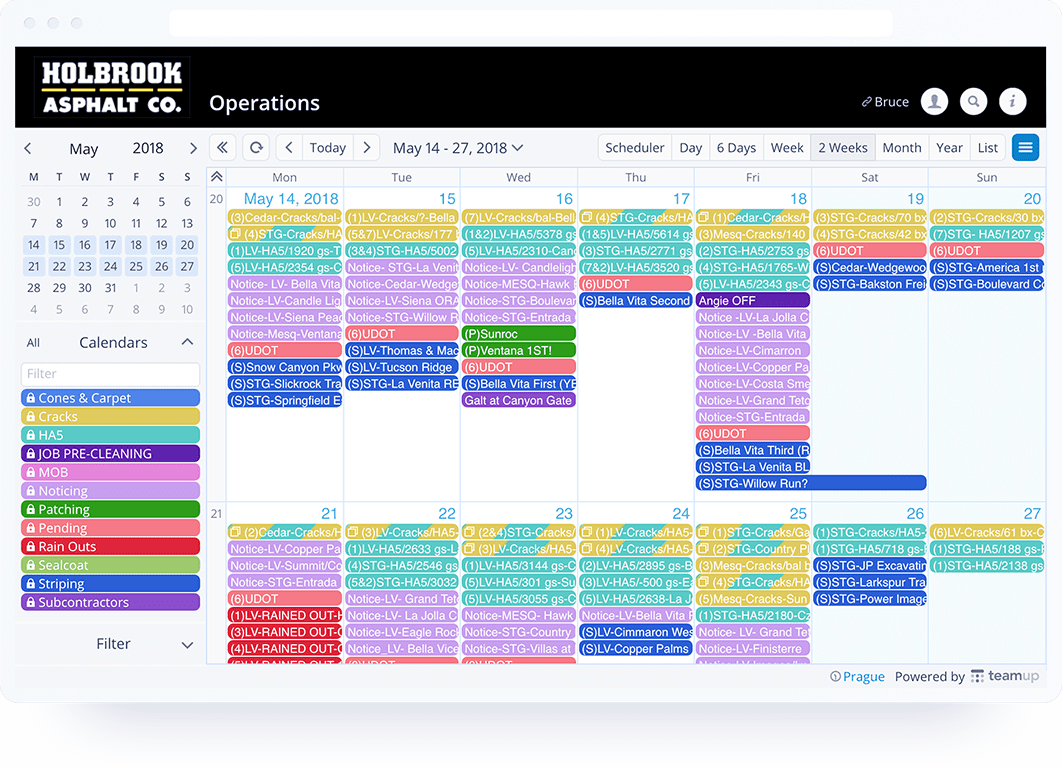 Optimize use of resources, avoid scheduling conflicts, and delegate tasks without losing sight of the big picture.
Keep all the details in one place with images, files, links, notes, and time-stamped event comments.
Streamline communication and easily maintain records, from planning to project completion.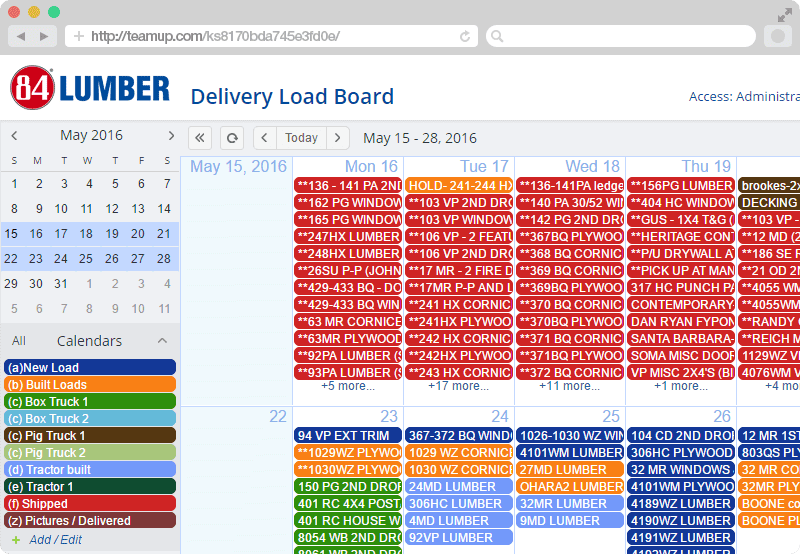 "The Teamup calendar has made us more efficient in our delivery system. The salesmen no longer have to call the store to check on the status of a delivery or who delivered it. It's right at the touch of their phone, and they have an answer for the customer right away."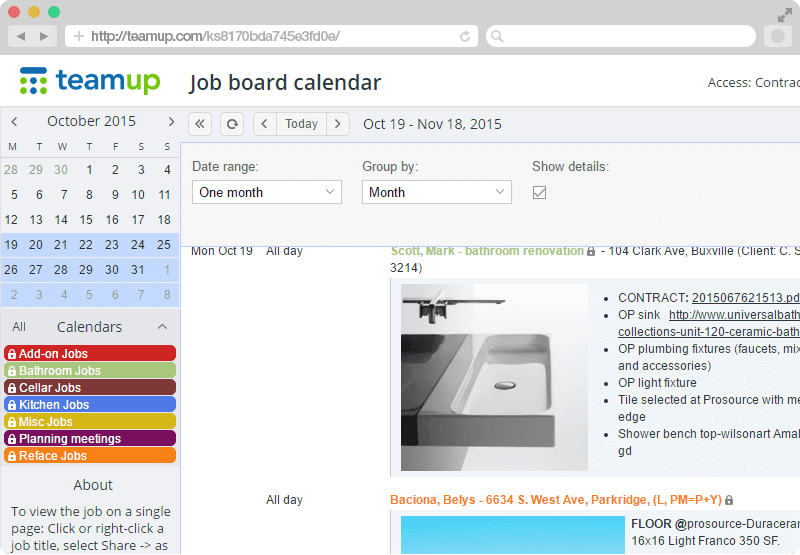 "I LOVE attaching pdf files; this makes communicating with our contractors so much easier! I upload their work orders and boom, done. I've shared a read-only link with all of them so they can access the calendar anytime to view the workload for the day, week, month, etc."
Nicole Salwinski, Toll Brothers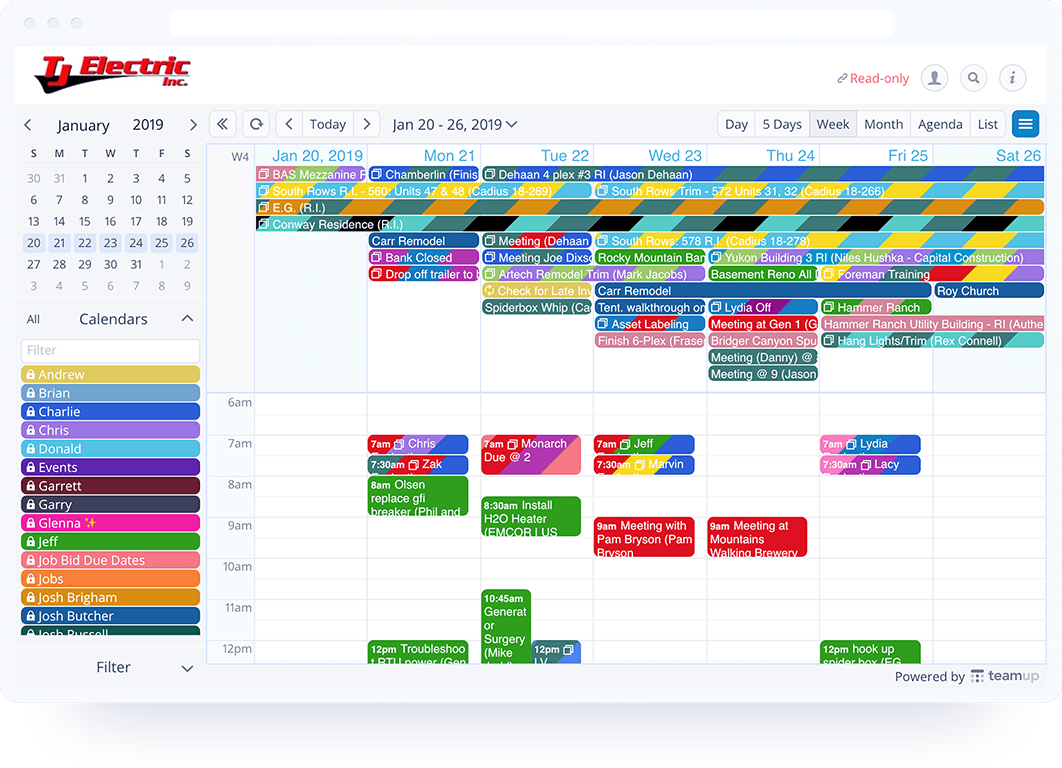 "We are better able to keep track of which jobs we have at any given time, and who is on what job. We are able to add contact information for our clients for the technicians out in the field, as well as addresses for the job sites in case our guys need to switch jobs midday."
Lydia Edgar, Electrical Contractor
How People Use Teamup & What They Say
"We use Teamup Calendars for scheduling transportation/appointments, activities, and staff schedules in a nursing home. We love the ease of access, flexibility, and readability of this product!" Thank you Sam!

— teamupthanks (@teamupthanks) April 17, 2021
"I use the Teamup calendar for the Behavioral Health Agency i manage. We LOVE it. It has made scheduling appointments and Transportation super easy." Thank you Renee! #healthcare #schedule

— teamupthanks (@teamupthanks) April 7, 2021
"I researched several scheduling apps based on price, ease of use, and access for iPhone and Android users and your product was the best option without question. Nothing else came close. I love Google products and I use that calendar for my personal scheduling. However..."

— teamupthanks (@teamupthanks) April 24, 2021
"With Teamup, we can basically organize the entire company's production process without confusing or overloading any of our departments with information that they do not need."

— teamupthanks (@teamupthanks) April 24, 2021
Organize with Colors
Use color-coded sub-calendars to organize people, places, or events. Assign a sub-calendar to a team member, a resource, a project, a process… anything! Arrange sub-calendars in folders and show or hide as needed.
Stay in Context
Keep project information in one place with images, files, links, extensive notes, and time-stamped comments. Create customized calendar views for individuals or groups. Enable event comments for data capture and feedback from job sites.
9 Access Levels
Manage centrally with 9 levels of access permissions to allow the right calendar access for the right person or team. Use add-only and modify-from-same-link to track changes. Use a read-only option for secure sharing without data risk.
Easy to Share, Always in Sync
Share an entire calendar, selected sub-calendars, or individual events. Keep everyone in sync with the Daily Agenda. Proactively notify field crews on new jobs, schedule changes, or project updates via mobile apps.
Get Started:
Organize with Sub-calendars