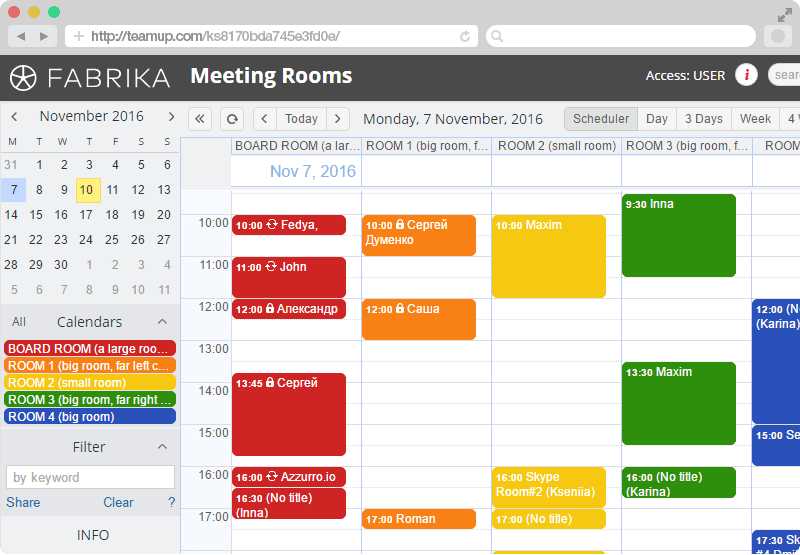 Eliminate the back-and-forth of checking on availability.
Enable self-booking and keep central access control: no risk of unwanted alteration to existing bookings.
Customize information disclosure based on user roles; keep sensitive data safe and ensure protection of privacy.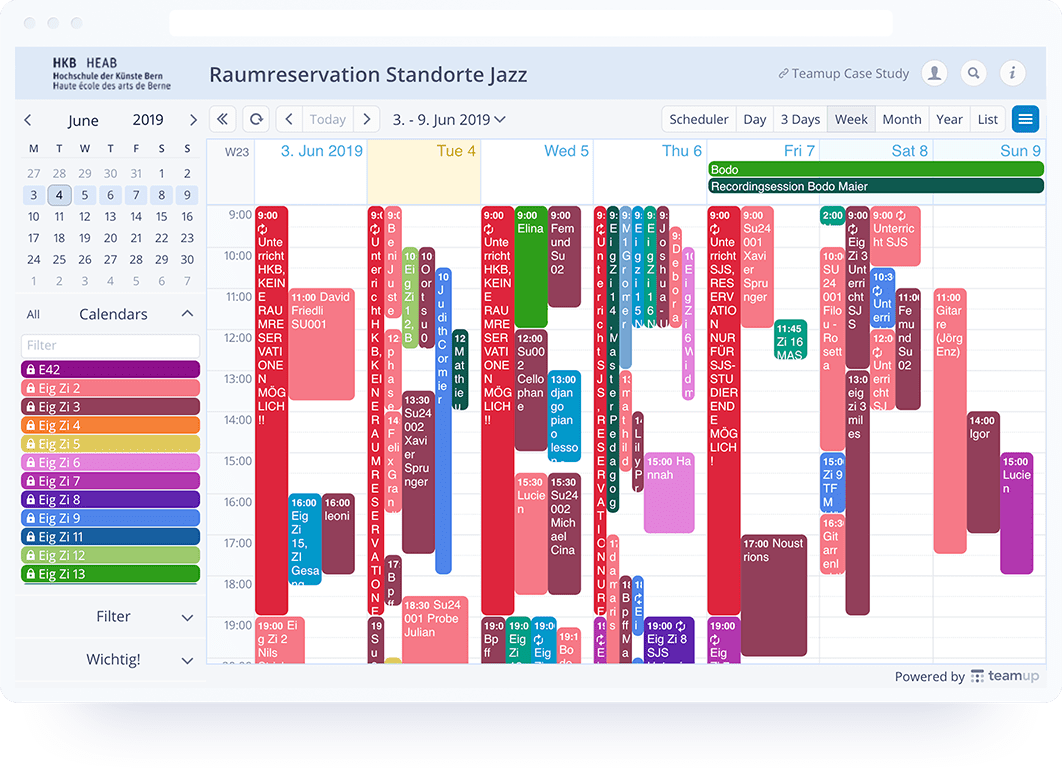 "The Jazz Study Area has 33 rooms in four locations available for faculty and students to use for lectures and practice. Teamup replaced the signup sheets on the doors…  It's easy to find out which rooms are available for a specific time needed and make the reservation immediately."
T. Knuchel, Bern University of the Arts, Switzerland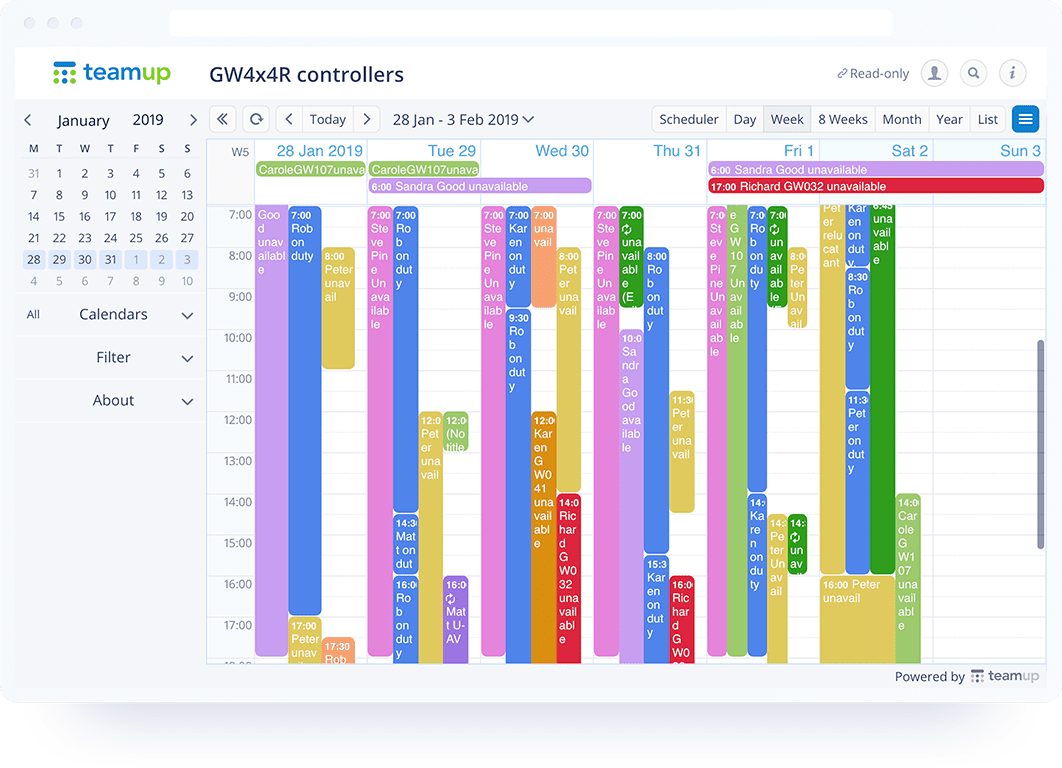 "We have 9 controllers and each one has their own calendar. When snow or floods are imminent we go onto "Standby" … Having Teamup reduces the amount of to and from messages that would otherwise be needed. It does save a lot of stress and time during what is often a very busy time for us. "
Rob Wilson, Gloucestershire & Worcestershire 4×4 Response, UK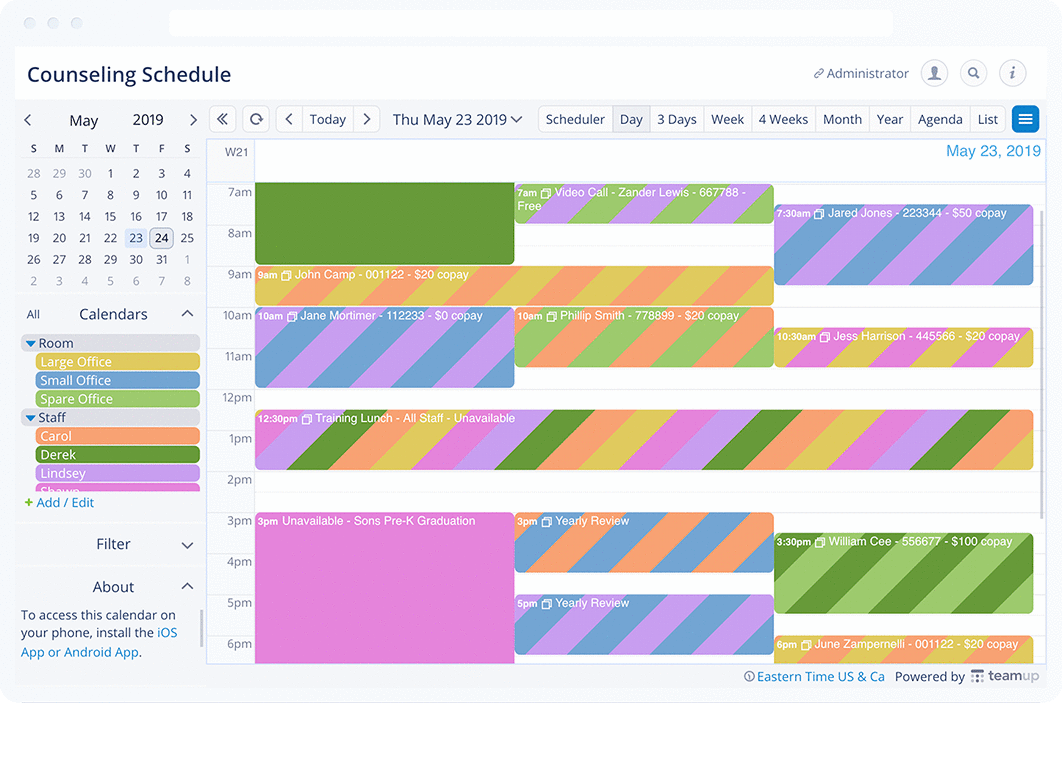 "Teamup not only meets our needs when we were smaller but has had the capability and functionality to grow with us. What we like best is even with all the calendars we have, it's still easy to see the schedule and make appointments."
Ken Burns, Transformations Counseling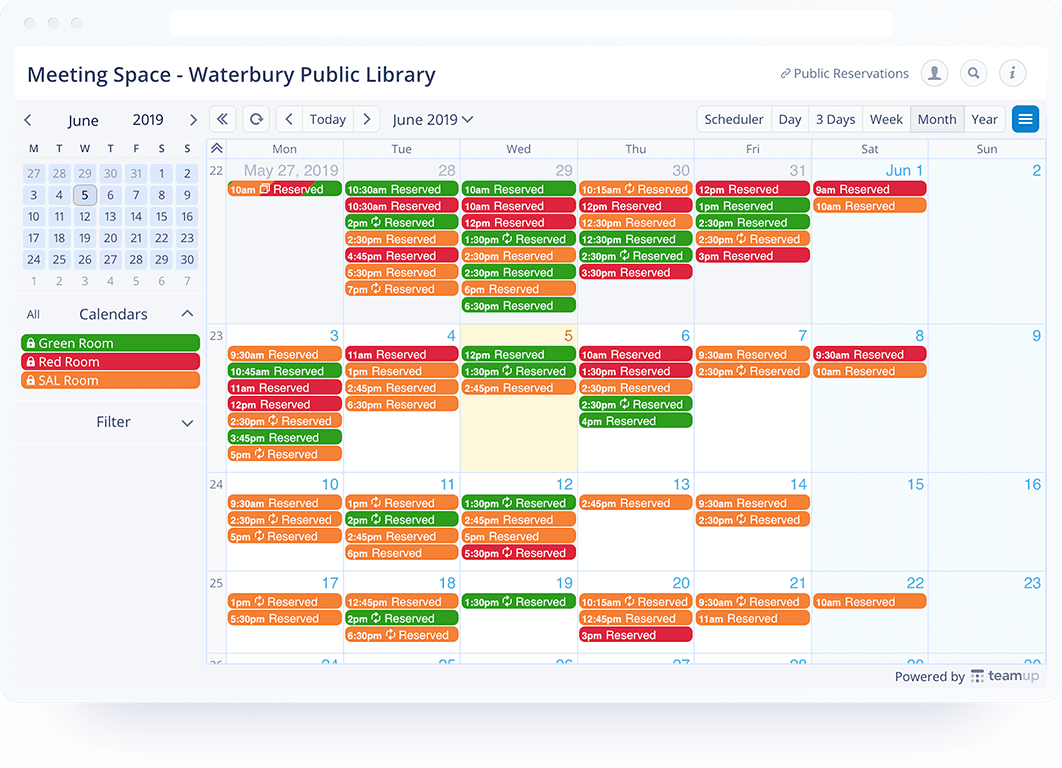 "We use our calendar to schedule the meeting rooms in our library. We have 4 views going – one for the staff to input info into, one for staff & volunteers that shows all the details of who is using what room at what time (read-only), one for our public events, and one that shows what rooms are reserved at what times, but with no identifying info (for the public who want to see if a room is available). That's why I love the Teamup software – to allow us to do so much with only one main calendar!"
Delia Gillen, Waterbury Public Library
How People Use Teamup & What They Say
"I take the opportunity to congratulate you guys on the program. We are a small Aircraft Management company and all the other Calendar/Scheduling Apps out there are stuffed with useless (for us) and pricey tools." Thank you Javier! #scheduling #aircraftmanagement

— teamupthanks (@teamupthanks) November 21, 2020
"We use Teamup to add events for club house rentals. This is the best Calendar I have ever used for our events, it is easy to use and not confusing at all and most importantly no bugs." Thank you Karl!

— teamupthanks (@teamupthanks) March 23, 2021
"When our new membership director came on the team, he suggested using Teamup and we have never looked back! It has increased our facility utilization, team communication and director productivity/time management immensely!" An incredible story. Thanks a lot Dhyana for sharing!

— teamupthanks (@teamupthanks) April 24, 2021
Organize with Colors
Use color-coded sub-calendars to organize people, places, or events. Assign a sub-calendar to a team member, a resource, a project, a process… anything! Arrange sub-calendars in folders and show or hide as needed.
Powerful Filters
Find specific events or event types quickly. Filter by sub-calendar, keyword, or custom event field, or combine filters for specialized searches. Use search operators and view event details in search results.
Flexible, Practical
Work efficiently with specific recurrence rules and defaults to prevent double booking. Use and customize 9 calendar views for long-term planning, granular scheduling on a time grid, or examining with visual and textual details.
9 Access Levels
Manage centrally with 9 levels of access permissions to allow the right calendar access for the right person or team. Use add-only and modify-from-same-link to track changes. Use a read-only option for secure sharing without data risk.
Sync with Feeds
Easily aggregate a single view of multiple resources via iCalendar feeds from other calendar systems or from Teamup Calendars managed by other groups. Send read-only feeds to other calendars.
Get Started:
Organize with Sub-calendars