It's for groups!
At a first glance, a Teamup Calendar may look the same as Google Calendar or Outlook.  Don't be fooled, though.  Teamup is no ordinary calendar – it's been built specifically for groups. Get more inspiration! 
Designed with groups in mind. Teamup isn't a personal calendar for you to manage your own time – it helps groups manage their shared time and resources. All you need to do is set up a calendar, add users to your calendar, and give them calendar access as needed. You can organize users in groups to make things easier.
It's simple. Add users with a click. Organize in groups, then add and remove users from groups easily. Easily manage and organize teams large and small. Or give temporary or limited calendar access with shareable calendar links. The demo calendar view below illustrates one of the common uses of Teamup.  The numbered elements highlight what makes Teamup intuitive and easy to use.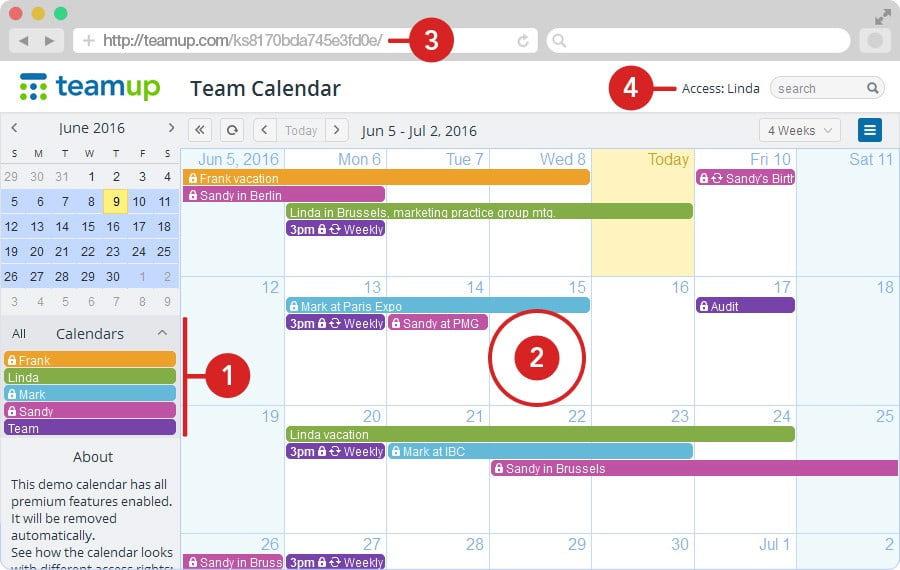 1. Organize with colors: Use color-coded sub-calendars to organize people, places, or events.  A sub-calendar can be assigned to a team member, a resource, a project, a process… anything!  Learn how to add color-coded calendars.
2. Schedule and view: With Teamup, you can add or edit events in many ways – plan recurring events, drag-and-drop as changes occur, switch to any of the eleven views, prevent double-booking, setup email notifications, and integrate into other applications!  All updates are instantly available to all users across all devices, any time, anywhere.
3. Share easily: Sharing a Teamup Calendar is as simple as adding a user via their email address. You can always control the permissions for each user or group. Choose which sub-calendars each user can access. Set granular access permission for each sub-calendar. There are 9 levels of permissions ranging from read-only, add-only, modify-from-same-link to those that limit access to certain sub-calendars.
4. Manage access: A user is identified by their name and email address. A shareable link is identified by the name you give it. Calendar changes are tracked in the edit history or via change notifications. The calendar admin always has complete control. Users and groups can take advantage of calendar features such as a synced calendar dashboard and event reminders.
Custom access for different users
While the calendar administrator has the full access to everything at any time, users can only view or modify what's relevant to them. See how to share calendars with flexible access permissions.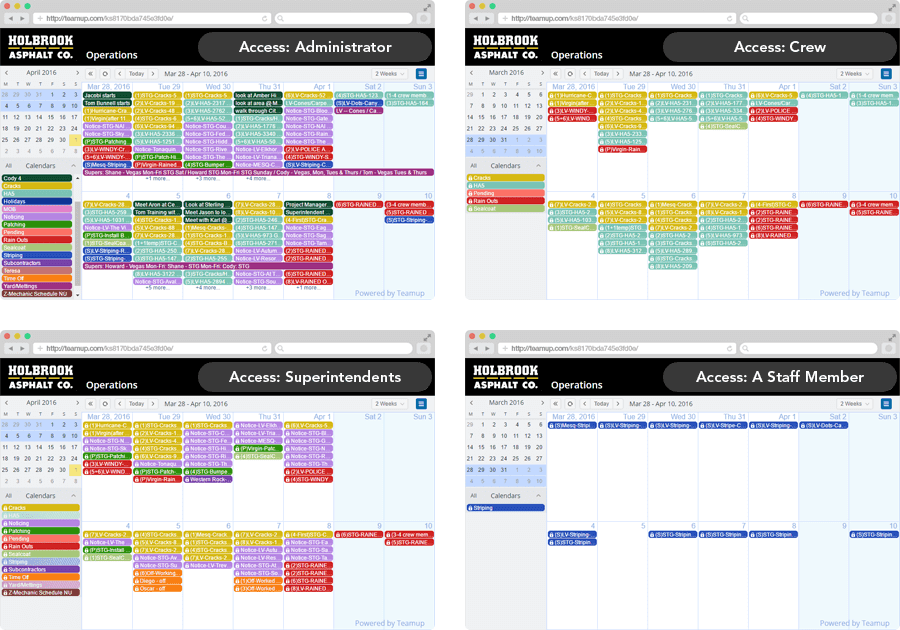 Note on the screen of the Superintendents: One of the calendars is toggled off in the left calendar list therefore the data on that calendar is not visible in the main events area. This makes it easy to filter displayed information in order to focus on what you need to see at any specific moment.
Flexible display options
There are many ways to view a Teamup calendar.  Besides the 11 different calendar layouts by design, users can also search, filter, toggle or apply link parameters so that it is easy and quick for them to show and see the information they need. Shown below is the same Operations calendar of the pavement company. All the views are variations of the same crew calendar.  Learn more.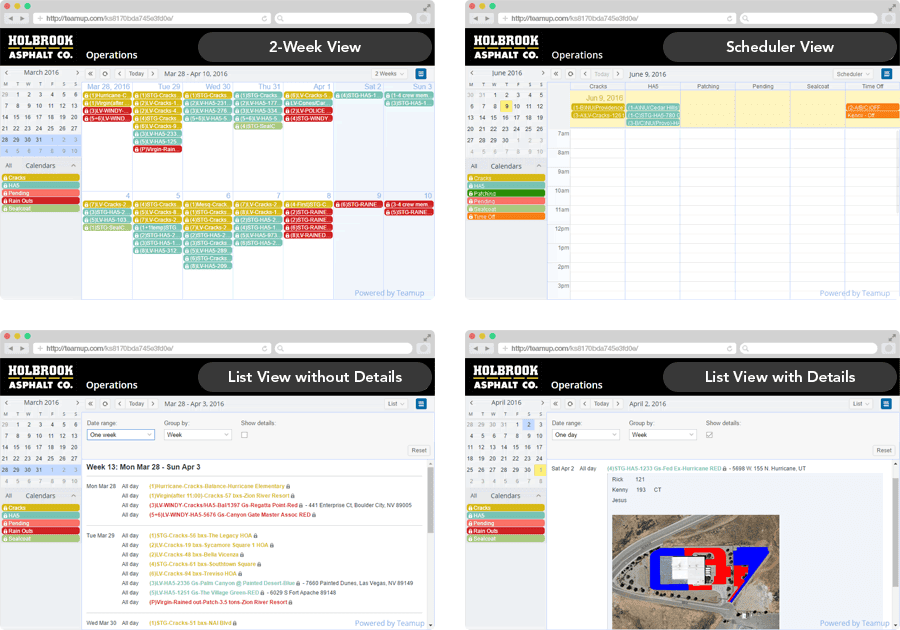 What it means to run a centrally managed calendar
When you create a calendar, you create a master calendar that can have multiple sub-calendars. You have administrator access which allows you to configure the centralized settings: add and organize sub-calendars, add users, create groups, and manage shareable links.
This is what you see in Settings > Calendars: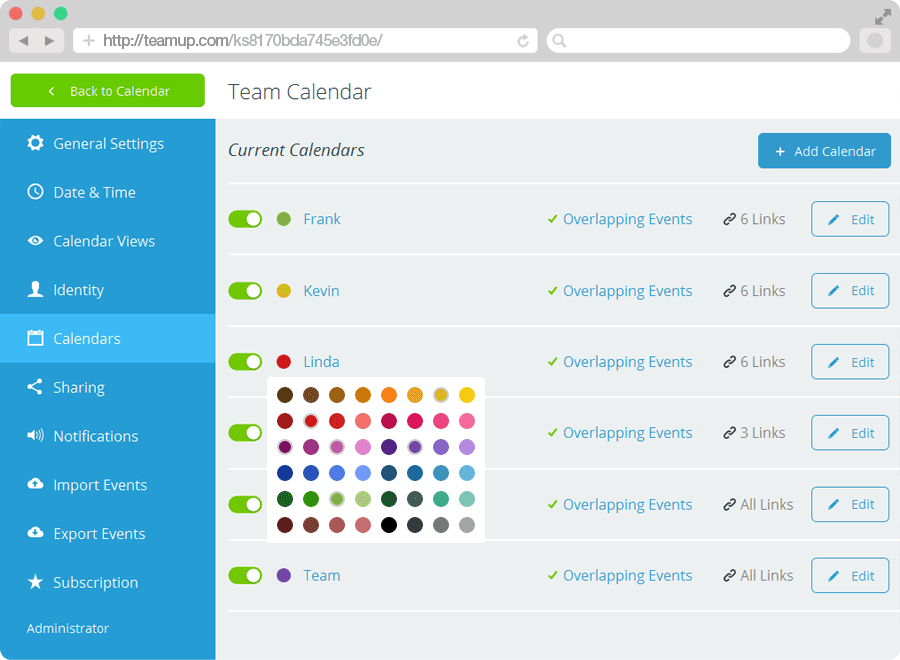 This is what you see in Settings > Sharing: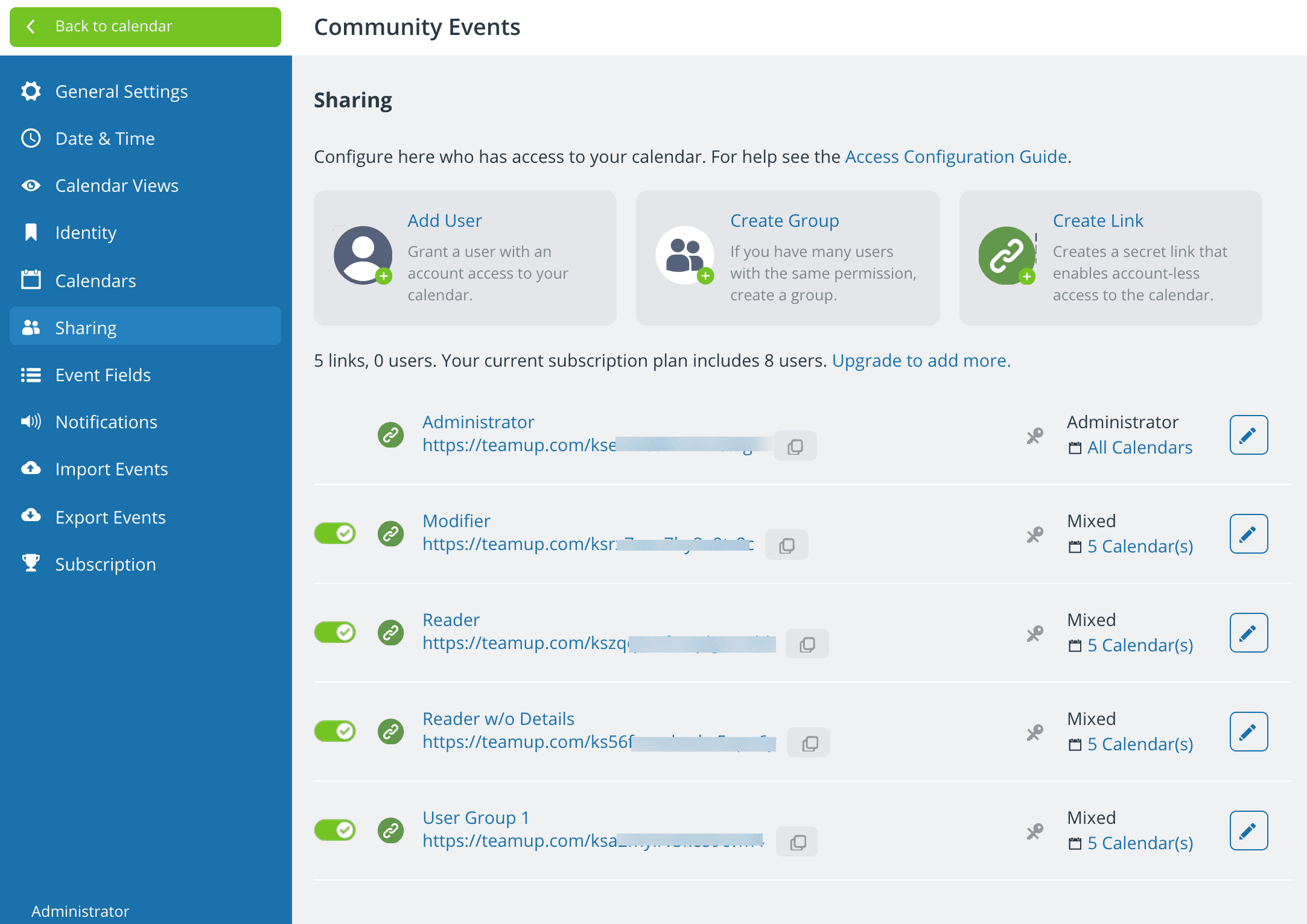 Assigning one event to multiple calendars
You may be in a situation where you need to organize multiple people covering multiple events in multiple locations, or need to avoid conflicts while scheduling for teachers and classrooms. Teamup can help!  Learn more.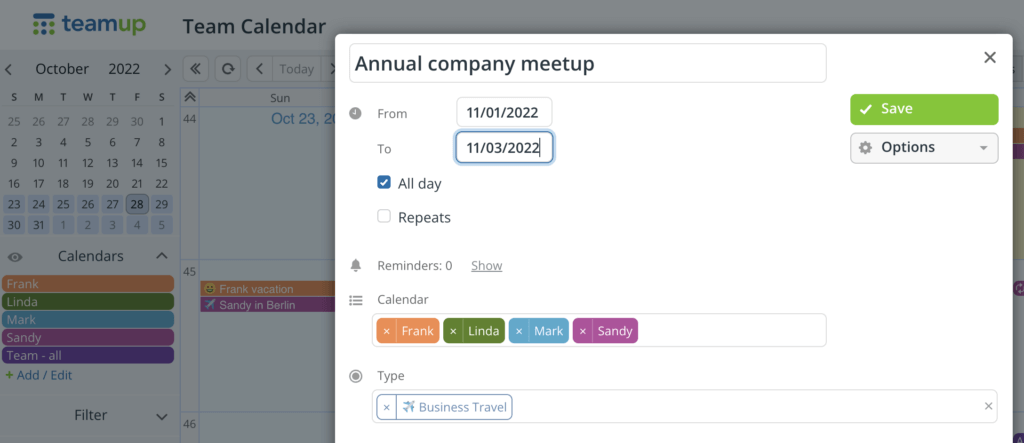 Sharing events without sharing the calendar
Calendars make it easy to organize and schedule events over any length of time. Sometimes events are relevant to people outside of your usual group or organization.  And you may want to promote or send a reminder about a single event. So you don't have to share your whole calendar. Each event on a Teamup Calendar has its own URL, allowing you to share individual events as independent web pages.  Learn more.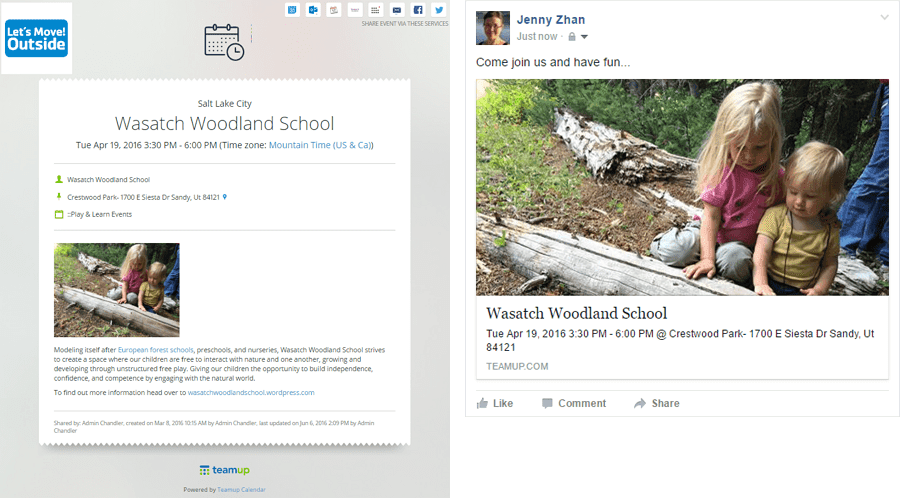 Shown above on the left is an event that is shared as a web page. Visitors can save the event to their own personal calendars or share it on social media.