Turning a Crisis Into a Triumph: How a Public School System Transformed Learning with Teamup Amid a Pandemic
"Teamup is extremely scalable and adaptable which makes it a perfect solution for quickly-changing and dynamic environments."
François Jaeger, Veteran educator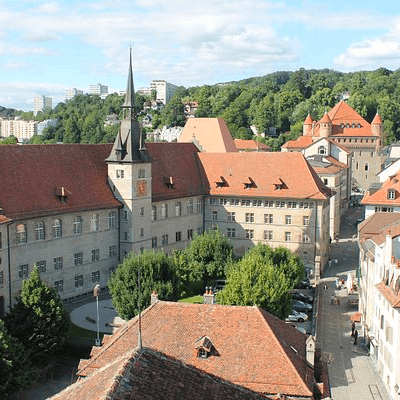 WHO
Schools in Canton of Vaud, Switzerland
WHAT
Use Teamup for Remote Learning
TRIGGER
Nation-wide lockdown in March 2020
The third largest canton of Switzerland, French-speaking Vaud is in the western part of the country and has a population of almost 800,000 people. 
Among the 800,000, there are over 92,000 pupils within mandatory education. 
When more than 92,000 pupils and almost 10,000 teachers were sent to continue school work remotely in the beginning of the lockdown in spring 2020, the school administrators were confronted by a new challenge: how to guarantee a smooth transition of information among schools, teachers, pupils, and parents?
Lockdown:
A New Communication Platform,
Quickly!
Before the pandemic, a paper-based notebook was the default communication option for the schools to communicate class information with pupils and their families. The implementation of any other tools and platforms was up to the individual teachers and schools.
📜

Before the pandemic, a paper-based notebook was the default communication option to share class information with pupils and parents.
In the new remote learning environment, schools needed to create a new system that would allow them to pass on information about upcoming virtual classes, transfer homework assignments and learning materials, and keep pupils and their parents informed about all of the above. 
To overcome the challenge, a solution was needed quickly. 
Fortunately, a veteran educator, François Jaeger from the cantonal school administration, quickly came up with an idea. He had previously used a collaborative calendar app, Teamup, to publish a calendar of school holidays and school weeks. He thought the app might lend itself to this kind of use as well, so he brought the idea up within the cantonal administration.
Within one week, Jaeger managed to set up the first iteration of the Teamup system in the school environment. It covered class information across 93 schools within the canton's public education system and linked over 92,000 pupils and their families with nearly 10,000 teachers. 
Keep It Simple: No
Accounts and Passwords
The biggest strength of the Teamup system from day one was its simplicity. 
François Jaeger and his team set up a calendar with individual links for all the classes: approximately 4,900 classes in total. 
"The fact that Teamup didn't require our users to create an account and a password and

then confirm it, was a huge asset. We believe we would have lost many users if we had

asked them to create an account"
François Jaeger, Veteran educator, Cantonal school administration
💡
The biggest strength of the Teamup system from day one was its simplicity.
Anyone with a link – a teacher, a student, or a parent – could find the calendar and access the information regarding the class content, video sessions and learning materials. No accounts to create, no passwords to memorize. One simple click was enough. 
Make It Easy:
Tackle the Resistance with Video Tutorials
The situation was stressful for everyone back then, François Jaeger reminds us. Families had to juggle remote work, childcare, and home-schooling, while teachers were forced to adapt their teaching method and adopt new technologies overnight. 
In a complex situation like this, a simple one-click solution was like a gift. Jaeger points out that the Teamup interface is also extremely easy for teachers to use as it reminds them of a text editor. No additional, distracting features: just quick, functional tools to allow them to focus on their work.
Another challenge many technological implementations face is resistance to use of new tools and systems. The educational teams in the canton of Vaud worked through the implementation phase with the help of easy, actionable training. 
The core of support given to teachers and users of the new Teamup calendars were video tutorials created by Jaeger's team.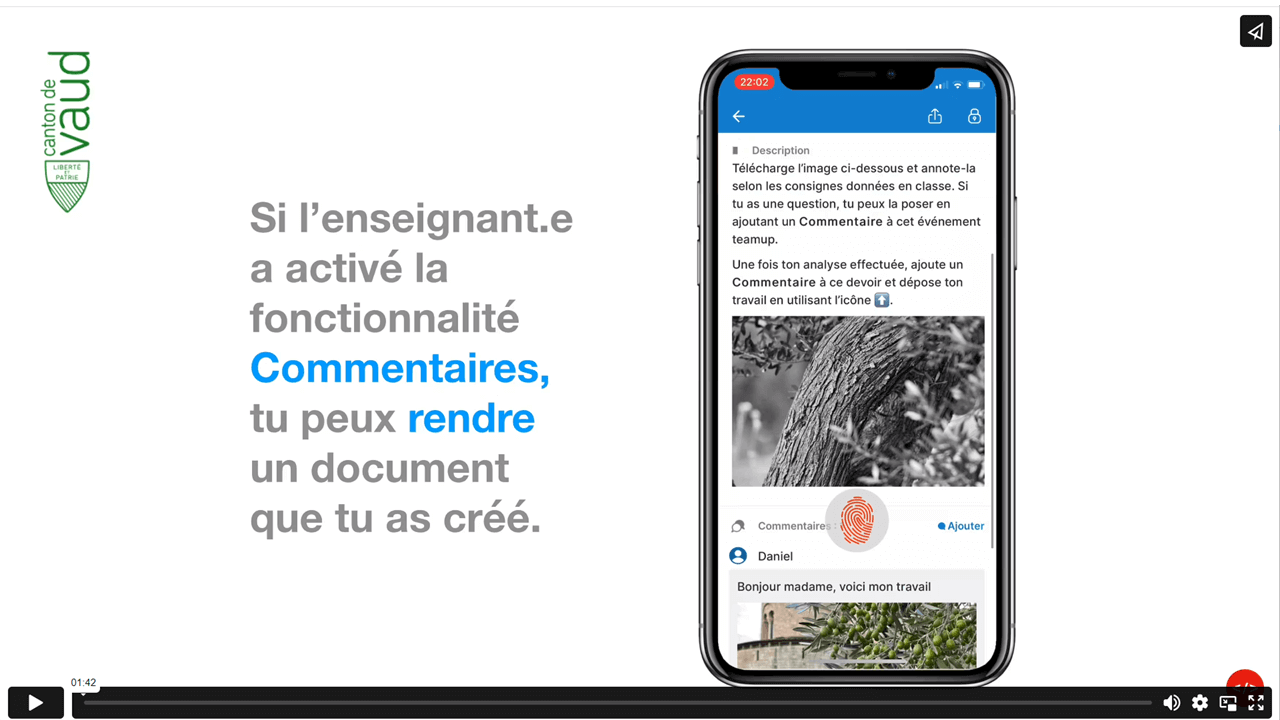 "First we considered creating written instructions for teachers to print or download but we quickly realised that they would be hard to update when new features are added or the user interface on Teamup is changed. That's why we decided to create video tutorials that are easy and quick to update when there are changes and improvements.

"
François Jaeger, Veteran educator, Cantonal school administration
Tutorials were short and sweet, 2-3 minutes maximum, to keep viewers engaged. Teachers learned quickly to create events and upload documents to Teamup. Pupils and parents could easily access the learning materials at home from the link they received.
🏆 03/2020: In the

first week of launching Teamup:


       • 40,000 events created
       • 27,000 + documents uploaded
       • 100,000 + users (teachers, pupils and parents)
Optimize:
More Flexibility for Individual Schools
While the goal of the first implementation was to offer a functional solution to ride out this crisis, the following summer and autumn months gave the implementation team a chance to revise the solution and upgrade it in ways that are more flexible, efficient and sustainable. 
Over the autumn semester in 2020, the cantonal school administration improved the customisation of links, so that a link shared with families automatically only showed the information relevant to their child's class. Changes were also made to sharing settings to gain better control over the editing rights on lesson plans and content.
Thanks to a highly skilled implementation team at the cantonal school administration in Vaud and the generous support by Teamup, a year-long pilot project allowed each of the schools to independently explore best ways to match their practical needs with Teamup's unique capabilities.   

The pilot was successfully concluded before another new school year started!
"The first iteration was set up very quickly which was really impressive. The following months allowed for more refining. Adaptability and scalability are among Teamup's biggest strengths, and Canton Vaud was able to make the best use of them with speed and scale.

"
Jenny Zhan, Co-founder & CEO, Teamup
Teachers continue to use Teamup as an efficient way to share learning materials with pupils and parents. As of March 2022, the total number of calendar events surpassed 450,000 and more than 250,000 documents have been uploaded to the Teamup servers.
Transform: A New Way to Organize Everyday School Life 
While the crisis has subsided and schools have avoided mass closures, Teamup has become part of the everyday school life in Canton of Vaud. 
The schools have also found innovative ways to leverage the system; for example, many schools were able to use Teamup to manage resources, reservations or integrate class information to schools' websites. Integrations with Microsoft Teams and other calendar systems have been adapted as needed.
"Some schools use the system to manage reservations, such as computer lab bookings or iPad case reservations. Others integrate special excursions to the school website, so that parents can see the upcoming events.

"
François Jaeger, Veteran educator, Cantonal school administration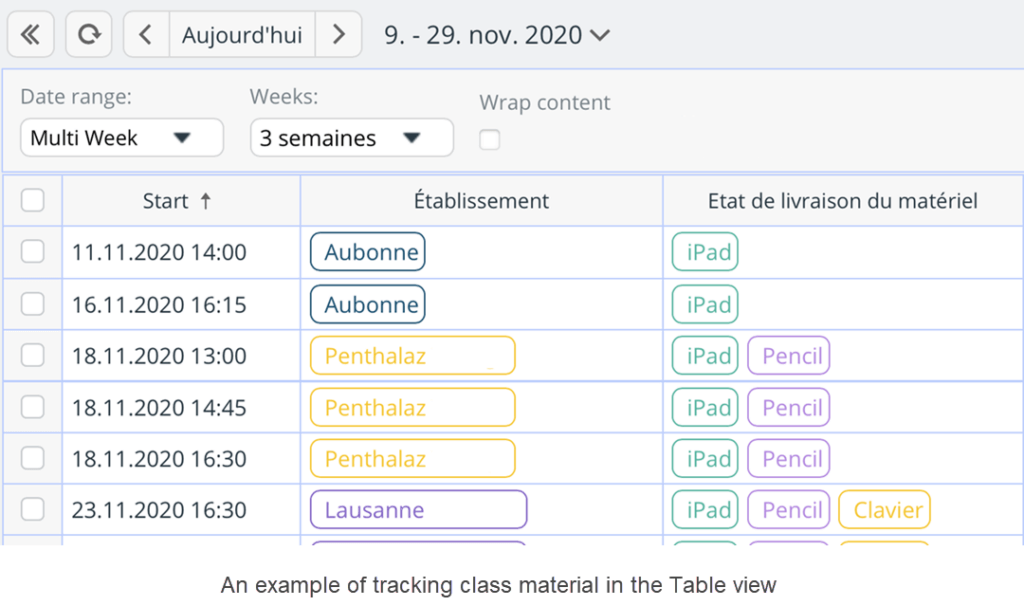 What started as a fervent search for a functional system to link schools and families amidst the pandemic has turned into a successful digital transformation, which has improved the communication between schools and families in the long term. 
🤲 As of 03/2022: P

ublic schools in Vaud on Teamup


       • 450,000+ events created
       • 250,000+ documents attached to the events
       • 280+ GB of data uploaded
By now the schools have adapted to the system well and use it in their own unique ways. The teachers and schools are discovering many new ways to make things easier as they get more familiar with Teamup.
For example, thanks to Teamup's unique access permissions, the teachers can create draft lessons on Teamup without revealing the unfinalized plans to other users of the calendar. When a lesson is ready to be shared, it takes as little as a drag-and-drop over the calendar grid to move it to the respective class calendar, and it becomes immediately accessible to pupils and parents. 
"The core of school education is about teaching and learning.

It's liberating to realize that 

sharing and access learning materials

can be independent of time and location – at home, in the classroom, or in any hybrid context. A great calendar system helps simplify the way learning is organized, allowing teachers and learners to focus more on the content and less on the "logistics" of where and when.
Jenny Zhan, Co-founder & CEO, Teamup
5 Ways to use a Teamup Calendar in Schools
Classroom agenda

 

for lessons and events with links, attached documents and images. It serves an audience of 190,000 parents, 9,900+ teachers and 92,000+ students.

Parents' Agenda

 

for different teaching cycles or half-cycles that parents can subscribe to via their smartphones.

School agenda

 

for communication between teachers, staff management and school directors.

Resource booking

 

for rooms, sport arenas, devices and hardware.
Integrations: MS Teams integration, website integration, external calendars (Pedagogical Infos, Public holidays in Vaud, Weeks VD), Outlook and other calendar integrations.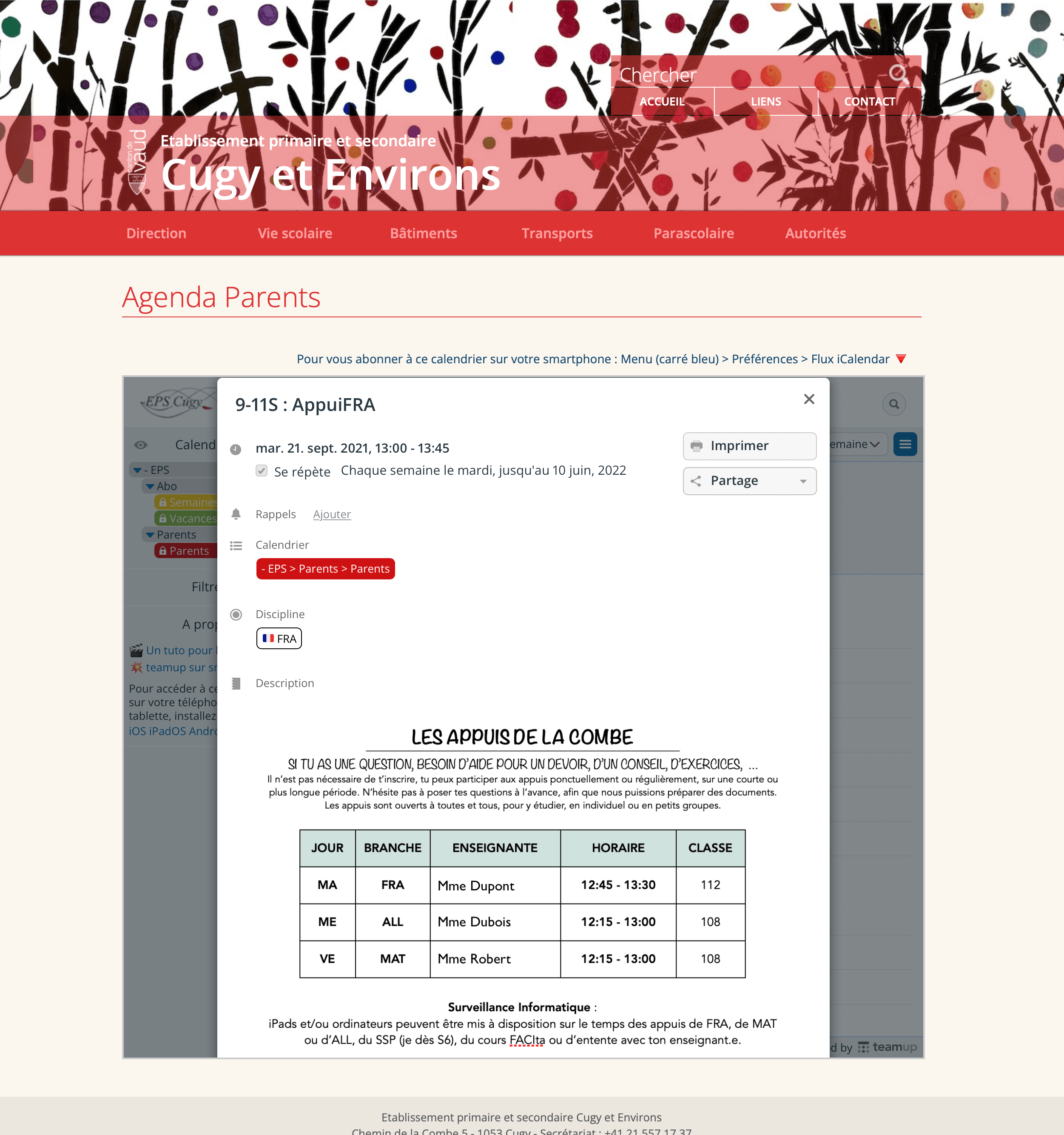 An embedded calendar helps parents stay informed of their kids' schedule and activities at school. It is always up to date, accessible anywhere on the web or on a smartphone. Imagine how many calls and other forms of inquiry to the school administration, along with all the stress and time that can be eliminated because this information is so easily accessible to the parents!
8 Perks of the Teamup Calendar System
Practical Advice for Getting Started
Setting up a system like Teamup is an iterative process.

 

Create the first version, see what works and what needs to be improved. 
Set aside time for testing the system.

 

Testing allows you to see how end users perceive the interface and how the set-up could be improved.

Try to imagine the future.

 

What kind of needs will your organisation have in 3 months, 6 months, or a year? How could Teamup meet those demands?
Invest time in learning to use the tool.

 

Even the basic features can be used in most creative ways.

Automate what you can.

 

In Teamup, for example, names of users can be imported in the form of a csv file. This makes user management quicker. 
Case Study Recap
Why was the transition launched?
Schools were closed as part of a nation-wide lockdown in the beginning of COVID-19. Our education system was not prepared for such a sudden shift to remote teaching and learning. Teachers needed an efficient and simple way to communicate with families and pupils.
What made the situation challenging?
The schools weren't using a platform or a tool that could have been adapted to meet the needs of teachers as the COVID-19 crisis hit. 
Why Teamup?
The responsible team members had good experience with the software previously, and it met the required criteria of simplicity and ease of use. It was quick to set up under exceptional conditions. 
Which challenges were confronted along the road?
The implementation needed to be extremely quick, however most staff did not have experience with Teamup. The challenges were met with high-quality video tutorials on how to use Teamup.
What makes Teamup a great tool for schools in the future?
Teamup is extremely scalable and adaptable which makes it a perfect solution for
quickly changing and dynamic environments.
Organize your team better today!