How To Modernize Space Booking & Lock Reservations With Teamup Calendar
If you run a small public facility, with a limited budget and perhaps a paper calendar or an Excel sheet to list your bookings, then you may be receptive to the idea of upgrading to a modern and more automated online calendaring system.
There are many instances where using such a system would mean more efficient and productive business operations. It would stop issues such as double bookings and lots of email back-and-forth. And it would help your customers to make reservations more easily, taking that responsibility off your shoulders.
So if you are running a business or a non-profit organization that handles multiple group reservations, having an automated and easily shareable online reservation system in place can save time and make life easier for everyone.
This is where Teamup can come into the picture to help you out. Look upon Teamup as your unpaid uncomplaining office assistant!
The Scenario
Let's look at a possible scenario – a swimming pool that allows multiple swimming clubs and other groups to use the pool. The pool owner needs to set up a master calendar to allow the clubs to reserve and edit their practice times.  Similar scenarios include tennis court, dancing hall, conference room, vacation house, and any space that is open to multiple groups and requires coordination among the users.
For the swimming pool, here are the two big vital factors – the practicing clubs cannot edit other teams practice times, and secondly, the administrator needs to be able to lock the reservations several days before the reserved practice time,so that the clubs cannot change the reservations anymore.
Let's see how this scenario can be achieved with Teamup.
Step 1. Create The Calendar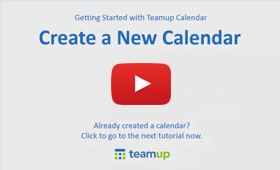 So the first step is to create your master calendar, and the one who sets it up gets the link with the administrative rights. This means that this person pulls all the strings with regards to that calendar. They can add calendars, customize the look, set the access permissions for other users, revoke access for users, add or delete anything, and so forth.
To create the calendar, go to the Teamup main page and click on "Create a Free Calendar"
Fill out a name for your calendar, and set your timezone. It is also recommended to enter an email address. Finally, click "Create Calendar"
Now that the calendar has been created, it is time to set up sub-calendars for each group, and then create access links and decide what level of access each one will get to the calendar.
Step 2. Setting Up The Sub-Calendars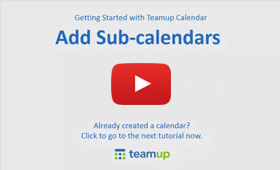 Cast your eye to the left of the main calendar, and you will see this:
Under "Calendars", click on "Add/Edit" to add the sub-calendars.  To fulfill the needs of the scenario described above, we need to have a calendar for the clubs and other groups to make reservation requests, so that's one calendar. Since the administrator needs to be able to lock the reservations, we can add another calendar for the reservations that have been locked.
Assuming Club A and Club B are privileged groups using the pool frequently, we can add a separate calendar for each of them so that everyone can easily see how often and when these clubs are practicing.
Step 3. Setting Up The Access Links And Permissions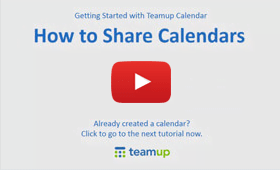 Let's start with Club A.  Go to Settings, then Sharing.  Click "create a new link", name it Club A, choose a basic permission, and save.  Do the same for more clubs and individuals who need unique access links to the calendar,until you have something that looks like the following.  The URL's have been smudged to conceal the location of the demo calendar.
As you can see, links have been set up for Club A and Club B. The staff co-ordinator also has user access, and Amy Hamilton, who is, let's say, the secretary.
Now in our little scenario, each club has to be able to place their reservation on the calendar, and the administrator needs to be able to lock the reservations to prevent any cancellations or rescheduling. So let's set upthe permissions accordingly.
Once the link for Club A has been created, click "Edit" to the right of the link, the link editor screen opens up. Scroll down to "Calendar Sharing". Then set the links to the following :
Now let's look at howthe calendar would work for the clubs and the pool administrator in reality.
Clubs: Reservation Requests – Modify-from-same-link
Using its unique link, Club A can add reservation requests to the calendar, but not edit or delete anything by Club B and others.  Club A can also change its own reservations until the administrator locks them.
Pool Administrator: Lock or Modify Any Reservations
Using the link with the administrator or modifier permission, the pool administrator can modify or lock any reservations as necessary.  To lock a reservation, open it in the event editor, from the "Calendar" drop-down menu, change it from "Reservation Requests" to "Locked – Club A" (or whatever club it it).  Once it is saved, this reservation becomes read-only to all clubs and is locked. Now only the administrator can change it.
Using these steps above, you now have your own reservation system with locking capability. This is one of the many things that sets Teamup Calendar apart in its own league, and is worth exploring.